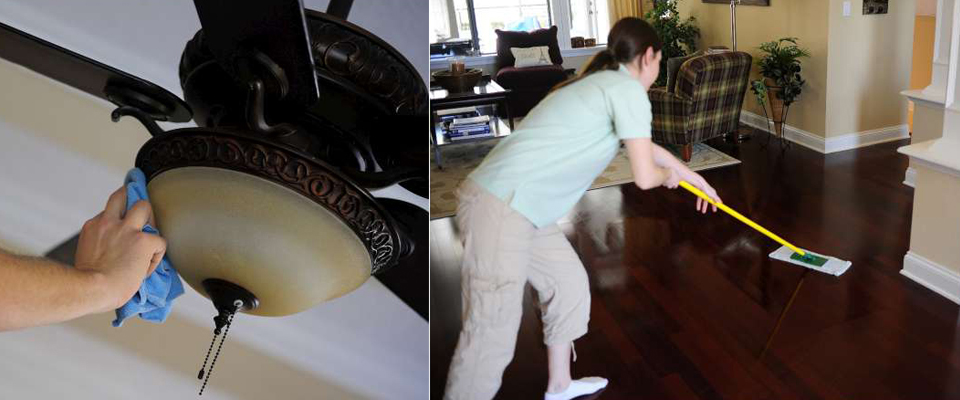 Here is a list of some of the tasks we do for residential cleaning jobs. There is more and this list can be altered to meet your needs.
Living Areas / Bedrooms
Remove all cobwebs
Dust all furniture
Dust knick-knacks and other small items (by request)
Dust trims , baseboards , window sills , doors , etc.
Dust picture frames , blinds , light fixtures , ceiling fans
Clean glass , any mirrors and glass furniture , glass tables
Change linens (by request)
Add scent (by request)
organize (by request)
Bathrooms
Dust baseboards , window sills , doors , light fixtures
Clean all mirrors
Clean and disinfect tub and / or shower
Clean and disinfect toilet , inside and out
Clean sink and counter tops
Empty and clean trash containers, change liners
Kitchen
Dust and polish all woodwork and furniture
Clean sink , counter tops
Clean exterior of appliances such as stove top, oven, refrigerator, and microwave
Clean interior of appliances (by request)
Clean cabinet faces
Clean interior of cabinets (by request)
Empty and clean trash containers, change liners (disinfect if requested)
Floors
Floors Vacuumed, Mopped
Sweep any floors that cannot be vacuumed
Hand-scrub , de-grease and clean grouts (by request)
Stairs and railings
Scrub , strip , wax , buff (by request)
Cleaning frequencies and types:
Daily
Once a week
Every 2 weeks
Every 4 weeks
One-time or special project
Continuous Contracts and Special Maintenance
Cleaning Supplies and Equipment:
We provide our own equipment and supplies.
You also can provide your desired equipment and supplies (specific care for special items, Green Products, etc.)
Or you can request from us to use special supplies and equipment.
Custom creations
Many customers come up with their own ideas of things they want to do in their homes but just don't know where to start. We turn your vision into a reality. If you have an idea, we will put it on paper, and then transform it into your custom cleaning or organizing improvement.
When you are creative and extremely handy, it is tough to list everything that you can do in a home. If you do not see it here, just ask!