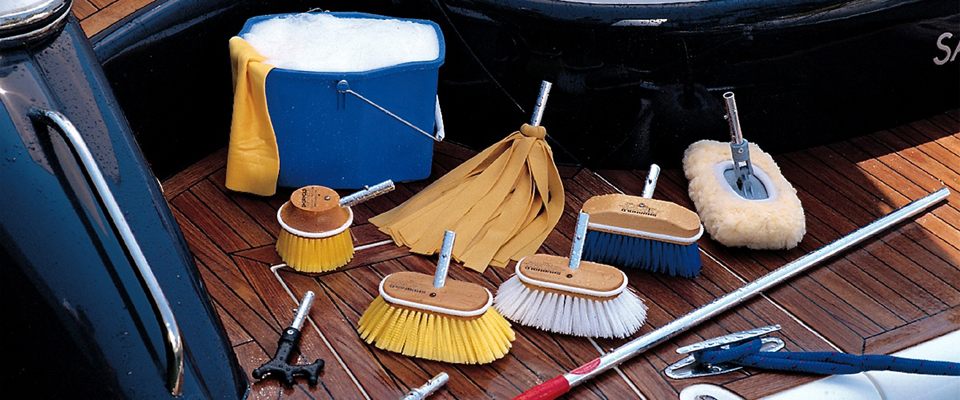 We offer several different boat detailing services that will help protect your gel coat from the elements and help keep your boat, both the interior and exterior, clean and in good condition year round.
Exterior Wash
Waxing and Gel Coat Preservation
Stainless steel and brass cleaning
Canvas cleaning
Interior cleaning and detailing
Carpet and upholstery cleaning
Exterior Washing
We offer both one-time detailed washes done as needed or recurring washes done every one, two, three or four weeks. Recurring washes are the best way to keep your boat clean year round so that anytime you want to enjoy your boat, it's clean and ready for you.
A recurring wash includes: Washing the boat from the waterline up using a soap that does not strip wax; washing away dirt and salt spray, bird or spider droppings and black water streaks; scrubbing non-skid and lifting up hatches and storage compartments to clean the gutter tracks and hatch edges and doing a wipe down in the cockpit or fly bridge area.
Add extra wash services as needed: Clean and polish plastic windows with special cleaner and microfiber rags, wash and clean dirt and mildew out of canvas, wash the dingy and wax away stubborn water streaks that don't come out with soap and water.
Waxing and Gel Coat Preservation
Our buff and wax service will remove oxidation, bring back the gloss and further protect your gel coat making your boat easier to clean throughout the year.
Depending on the level of oxidation, we'll either do a one-step wax job where we use a compound and wax mixture with a power buffer to remove light to medium oxidation or if your boat has heavier oxidation, we can do a two-step process where we first go over the boat with compound to remove the oxidation and then with wax to protect the glossy new layer of gel coat.
If you're unsure of what your boat needs (a one or two step process), we always do test spots before we start working to figure out just the right compound and wax mixture and can contact you if it's going to require more than just a one-step process.
Waxing and Gel Coat Preservation
Clean canvas to remove dirt, mildew and bird dropping stains (while attached to the boat)
Polish stainless and other metals
Clean and polish plastic windows (Isinglass and Strataglass)
Clean and whiten/brighten vinyl
Wash and detail dinghies and tenders
Clean enclosed fly bridge areas or cockpits - vacuuming, wiping down surfaces, cleaning Isinglass, vinyl seats, lifting up seat cushions, non-skid, and more.
Special prices for weekly, bi-weekly and monthly washes
Feel free to inquire about other services that may not be listed.